Founded by E. Stanley Jones in 1930
"There are many religions there is only one Gospel."
E. Stanley Jones
About the ashram
Set in the midst of quiet forests and mountain lakes, the Sattal Christian Ashram was founded by Dr. E. Stanley Jones, along with Rev. Yunus Sinha and Miss Ethel Turner.
His 'Vision' for all nations to receive Christ within their own framework helped to re-establish the Indian "Ashram" (or retreat) as a means of drawing men and women together for days at a time to study in-depth their own spiritual nature and quests, and what different faiths offer individuals. Therein he offered the example of God's reconciliation through Jesus on the cross.
Many came to refute the Christian Gospel or to extol their own, but many among them came to accept Christ's way of life. These confrontations of man with man, and religion with religion greatly influenced the thought life of India's leaders and people.
This 'vision' continues within the current programmes offered at Sattal Christian Ashram.
Location of Sattal Christian Ashram
Nainital, Uttrakhand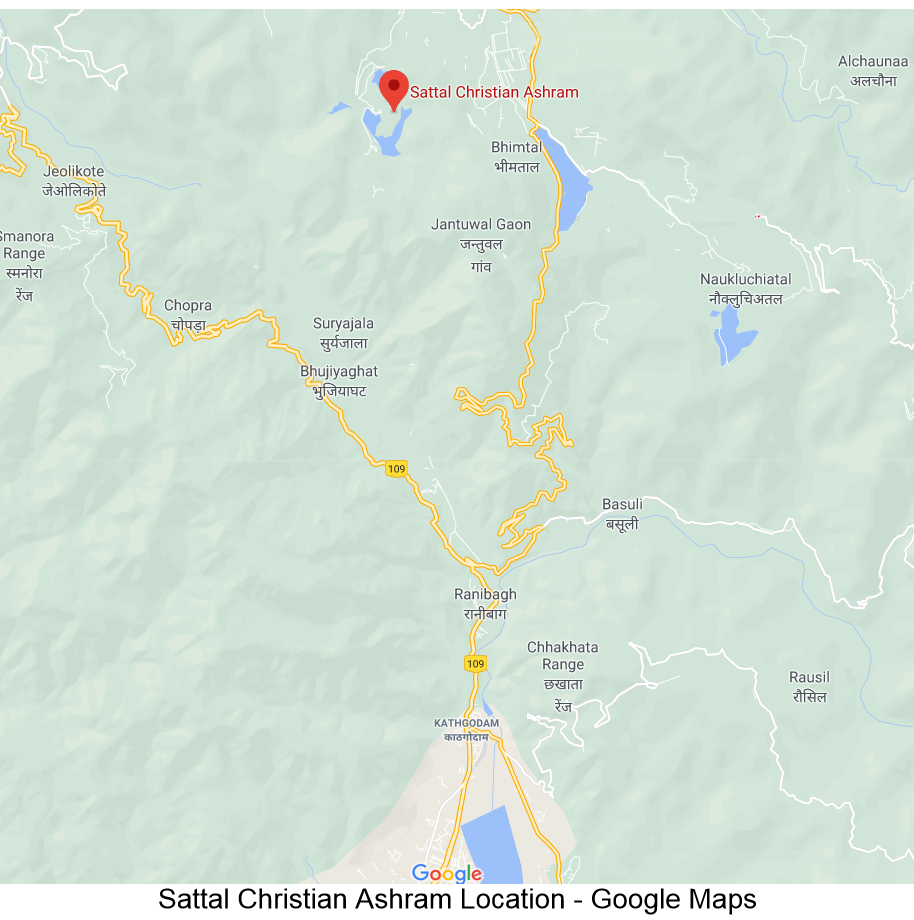 Address
Sattal Christian Ashram Society,
PO Sattal, via Bhimtal District Nainital - 263136
Uttrakhand, India
Ashram Leadership
Bishop Dr. Anil Kumar Servand - Chief Acharya / Chairman
Rev. Dr. N.C. George - Resident Acharya
Phone:
+91 983 703 0072 / +91 798 363 4708
Email:
suniljacobram@live.com
http://sattalchristianashram.org
Sattal Christian Ashram is forest retreat, where individuals get an opportunity to discover answers for victorious daily living in the 21st century while trying to understand Jesus Christ in an indigenous manner. Come and experience its uniqueness Vision Statement:
We, people of all faiths and no faith, gather in this ashram to attempt not to find an answer, but to be the answer, by experiencing a miniature of Vasudevakudumbagham (Kingdom of God), while being mentored by our Sat Guru, Jesus Christ in indigenous forms.
Call Us Today! Please contact us anytime! We look forward to hearing from you.